UP NEXT...
DAYTONA INTERNATIONAL SPEEDWAY
Next Sprint Cup Series Race * Daytona International Speedway * Daytona Beach, Florida * Sunday, February 23, 2014
Next Nationwide Series Race * Daytona International Speedway * Daytona Beach, Florida * Saturday, February 22, 2014
Next Camping World Truck Series Race * Daytona International Speedway * Daytona Beach, Florida * Friday, February 21, 2014
The End Of An Era For Several Drivers
Nine drivers in Sunday's race either raced for the last time in the NASCAR Sprint Cup Series or for the last time in their current rides. Ken Schrader, who recently announced his retirement from NASCAR Sprint Cup racing, ran 34th. Mark Martin, in his last race as a substitute for injured Tony Stewart, came home 19th. Kevin Harvick, in his last race for Richard Childress Racing before moving to Stewart-Haas Racing next year, finished 10th and held third place in the final series standings. Ryan Newman, moving from Stewart-Haas to RCR in 2014, ran 17th.

Juan Pablo Montoya finished 18th in his swan song for Earnhardt Ganassi Racing. Montoya will drive for Penske Racing in the IndyCar Series next year. Kurt Busch came home 21st in his final race for Furniture Row Racing; Busch, like Harvick, is bound for Stewart-Haas next year. Jeff Burton rolled home 23rd in his last race for RCR. Dave Blaney was 38th in his final event for Tommy Baldwin Racing.

And Martin Truex Jr. finished his career at Michael Waltrip Racing in style, with a fourth-place result. He'll move on to Furniture Row next year. "I wish we could have got it figured out a little bit earlier," said Truex, who was strongest at the end of the race. "I just can't thank all these guys enough -- Michael (Waltrip, team owner) and Rob (Kauffman, team owner) and NAPA and Toyota and everybody that has made it possible the last four years to have such a good time, make the Chase and the win at Sonoma this year. "All the things we did together were special, and (I'm) going to miss these guys and hopefully see them around a lot next year."
Explosion Rocks Paul Menard's Chevrolet On Pit Road
Even through the glass windows of the luxury suites at Homestead-Miami Speedway, the loud blast sounded like the explosion of an artillery shell. In reality, what happened on Lap 232 of Sunday's Ford EcoBoost 400 NASCAR Sprint Cup Series race was the detonation on the right rear tire on Paul Menard's No. 27 Chevrolet. The force of the explosion blew the entire wheel assembly off the car and engulfed the crew in black smoke.

The trouble for Menard began with a Lap 194 restart, when the outside line stalled. Menard rammed series champion Jimmie Johnson and in turn was hit from behind, sustaining damage to the rear of his car. "On that restart, everybody kind of checked up, and we got some right rear damage and had a flat tire," Menard explained. "I guess a bunch of rubber got wrapped up underneath around the axle. Came in a couple of times trying to fix the damage and try to get the rubber off. We didn't get it all, and I guess it just caught fire. I didn't really know it until there was a little bit of a spark coming in the car and landed on the window net; thought that was kind of weird. About a lap later they said I was on fire; I lost my brakes, then the damn wheel blew right off." Menard was unhurt, and several of his crew members narrowly escaped injury from the flying wheel, but the car was done for the night.
Hamlin Salvages Season With Homestead Win, As Johnson Claims Sixth Sprint Cup Title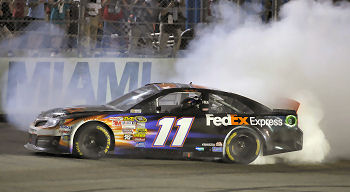 CIA Stock Photos

Hamlin Celebrates Victory With Burnout

Denny Hamlin found redemption for a lost season, as Jimmie Johnson advanced to the threshold of legend. Sidelined for four races with a broken back earlier in the season, Hamlin took the checkered flag in Sunday's Ford EcoBoost 400 at Homestead-Miami Speedway, as Johnson claimed his sixth NASCAR Sprint Cup Series championship with a ninth-place finish. Johnson finished the season 19 points ahead of polesitter and race runner-up Matt Kenseth, who held off a furious charge by third-place Dale Earnhardt Jr. in the closing laps. With six NASCAR Sprint Cup titles, Johnson is one behind all-time leaders Richard Petty and Dale Earnhardt. The title was a record 11th for team owner Rick Hendrick.

"I don't even know where to start," Johnson said after the race. "I'm at a loss for words, but I'm so proud and so thankful for this opportunity at Hendrick Motorsports. I'm thankful that Jeff Gordon and Rick Hendrick gave me this opportunity back in 2002. "This sport is about people, and our people at Hendrick Motorsports -- especially on this 48 car -- rose up and got the job done. I'm so thankful to be able to drive for this race team and so honored and so excited to have a 'six-pack.'"

Hamlin won for the first time this season, the second time at Homestead and the 23rd time in his career. The driver of the No. 11 Joe Gibbs Racing Toyota has won at least one race in each of his eight full seasons in the NASCAR Sprint Cup Series. As elated as he was with the victory, Hamlin took time to acknowledge the excellence of Johnson and his No. 48 team. Johnson's average finish in the 10 Chase races was 5.1. "I think they do a great job of being consistent," Hamlin said. "Really, I'd say with everyone else in the Chase, you can almost count on them having one bad race. The 48, they just never have that one bad race. I don't know how to explain it, but they just don't make any mistakes. You have to beat him on performance. To do that, that's really hard. Unfortunately, we're racing during the Jimmie Johnson Era. We're just unlucky in that sense. I think being out there and racing with him, I can say that I think he's the best that there ever was."

Martin Truex Jr. completed his tenure at Michael Waltrip Racing with a fourth-place run, one spot ahead of teammate Clint Bowyer. Brad Keselowski, Kyle Busch, Joey Logano, Johnson and Kevin Harvick rounded out the top 10. Johnson's path to the title was far from easy. Moments after a restart on Lap 194, Paul Menard rammed the back of Johnson's No. 48 Chevrolet as the outside line checked up. The impact jerked Johnson's car sideways, but the five-time champion was able to regain control and keep the car off the outside wall. His momentum sapped, however, Johnson plummeted to 23rd in the running order, the precise finishing position he needed to secure his sixth championship. Over the next nine laps, Johnson recovered to 16th and drove the No. 48 out of the danger zone.

From that point on, he advanced as high as sixth before finishing ninth, and the sixth NASCAR Sprint Cup title was his. "I had contact from behind that pushed me into the 20 (Kenseth), and both of us were out of control and sliding toward the outside fence at that point," Johnson said. "I didn't know what to think. That got us mired back in traffic and made the last 50 laps kind of interesting. We still had an awesome race car and got the job done."
Ricky Stenhouse Wins Rookie Of The Year Honors
Though Ricky Stenhouse Jr. didn't enjoy as much success as he might have liked in 2014, his performance was strong enough to secure Sunoco Rookie of the Year honors. Stenhouse, who finished 22nd Sunday, beat out girlfriend Danica Patrick for the recognition as top rookie in the NASCAR Sprint Cup Series. "It means a lot, looking at all the other names that have won this award," Stenhouse said. "It definitely wasn't the season that we wanted, but we slowly but surely got a little bit better throughout the season. I was proud of what we did, of getting better, qualifying better, having runs up front, leading laps throughout this year. I thought we had a chance at winning some races there, at least being in contention. I was proud of those moments. All in all, it was a huge learning experience. Thankful we made it through; it's behind us now. We can move on to next year, look on improving every spot at every track that we can in the final points standings."
NASCAR Drive For Diversity Graduate Kyle Larson Wins Nationwide Rookie Of The Year
In what has been an already impressive first full season in the NASCAR Nationwide Series, Kyle Larson added another accolade to his resume Saturday at Homestead-Miami Speedway – the Sunoco Rookie of the Year Award. In doing so, he becomes the first NASCAR Drive for Diversity (D4D) graduate and first Asian-American driver to receive the award in a NASCAR national series. Additionally, Larson was a member of the 2012 "NASCAR Next" class, an initiative designed to identify the sport's next generation of stars. "Kyle's Sunoco Rookie of the Year Award marks a historic moment for NASCAR and the NASCAR Drive for Diversity program," said Marcus Jadotte, NASCAR vice president of public affairs and multicultural development. "We couldn't be happier for Kyle and with the progress we have made in increasing minority and female on-track participation in the sport." Larson captured the rookie honors by 82 points over runner-up Alex Bowman.

Larson, from Elk Grove, Calif., finished second four times (Bristol-1, Michigan, Dover-2 and Homestead) this season and overall compiled nine top-five and 17 top-10 finishes. He made headlines in April, winning the NASCAR Camping World Truck Series race at Rockingham Speedway to become the first graduate of the NASCAR Drive for Diversity program to win a NASCAR national series race. Larson will compete in the NASCAR Sprint Cup Series in 2014, driving the No. 42 Chevrolet for Earnhardt Ganassi Racing with Felix Sabates.
Brad Keselowski Wins At Homestead, As Austin Dillon Claims NNS Title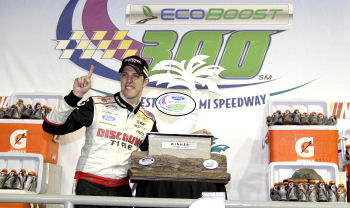 CIA Stock Photos

Brad Keselowsk Wins At Homestead

It was all in the restarts in Saturday's Ford EcoBoost 300 at Homestead-Miami Speedway, as both race winner Brad Keselowski and NASCAR Nationwide Series champion Austin Dillon accomplished their respective goals thanks to late-race charges. After a restart with five laps left, Keselowski surged from 10th to the lead by Lap 198 of 200, passing both Kyle Busch and race runner-up Kyle Larson to take over the top spot. "That late-race restart was key," Keselowski said in Victory Lane. "We came in and put tires on with 20 to go, and that yellow (for a four-car crash on Lap 183) was out for [12 laps], and I didn't think we were going to have a shot at it. But we got the right restart and made our way through. I'm going to have to watch the in-car camera, because that was one hell of a ride. Be glad there wasn't a passenger with me, because they would have been screaming the whole way. I know I was."

Dillon was simply screaming with joy after holding off Sam Hornish Jr. for the championship. Fighting a balky No. 3 Chevrolet for most of the night, Dillon finished 12th but kept Sam Hornish Jr. in his sights after two late restarts. Hornish ran eighth, with 37 laps led, but lost the title to Dillon by three points. Dillon became the first driver to win the series championship without winning a race, thanks to season-long consistency. "I was just glad to see the 12's back bumper [after the final restart]," Dillon said. "I knew if I could see him and know where he was that I wasn't going to give up 'till the end. I had a great start and tried to get the jump on him. It worked out. That's all I can say. He was a great competitor, and he brought his stuff tonight, and we were able to capitalize at the end. Man, it was a hell of a race"

Keselowski's Penske Racing teammate, Joey Logano, gained six spots after the final restart to secure the owners' championship for his No. 22 Penske Ford. The margin over the No. 54 Joe Gibbs Racing Toyota driven by Kyle Busch? A single point. With his fourth second-place finish of the season, Larson locked up Sunoco Rookie of the Year honors. His No. 32 Chevrolet, however, failed post-race inspection for being too low, the team's second offense. Keselowski's victory also secured the NNS manufacturers' championship for Ford. "It means a lot to me to win rookie of the year in the Nationwide Series," Larson said. "A lot of veterans in the past and in the current Sprint Cup Series have won the rookie of the year. To add my name to that list hopefully means I'm doing something good." Larson will move to the NASCAR Sprint Cup Series next season in the No. 42 Earnhardt Ganassi Racing Chevrolet.

For Keselowski, the victory capped a remarkable NASCAR Nationwide Series effort in 2013. The win was his seventh of the season but his first in the No. 48. Keselowski won his first six races in the No. 22 Logano drove on Saturday. The 2010 NNS champion, Keselowski notched his 27th victory in the series.
Rookie Battle Not A Hot Topic In Patrick/Stenhouse Romance
Apparently, Ricky Stenhouse Jr. already has learned the most important lesson for a successful relationship: don't bring up a potentially contentious subject. Perhaps that's why Stenhouse and girlfriend Danica Patrick seldom mention their battle for Sunoco Rookie of the Year honors in the NASCAR Sprint Cup Series. Entering Sunday's Ford EcoBoost 400 at Homestead-Miami Speedway, Stenhouse held an insurmountable lead over Patrick in the rookie standings, and with good reason. Stenhouse came to full-time NASCAR Sprint Cup racing after back-to-back NASCAR Nationwide Series championships. Patrick is still struggling with the transition from IndyCars to stock cars.

Certainly, there were highlights for the most recognizable female driver on the planet, from the Daytona 500 pole to a strong 12th-place run at Martinsville in April. But there weren't enough highlights to keep her competitive with Stenhouse over the course of the season. "No, I think there was a certain level of sensitivity to it," Patrick said Saturday when asked if there had been any good-natured ribbing from her boyfriend. "It was for sure a longshot for me. I mean, it was going to need to be a really good rookie season. There were some really good things that happened. Daytona was a great way to start. Then it went to Martinsville; that was a great run. We just didn't really get a lot better… He just came off two Nationwide championships. That was going to be tough to compete with, no matter who you are."

What Patrick and Stenhouse did discuss was the business at hand, as both progressed through their rookie seasons, Patrick in the No. 10 Stewart-Haas Racing Chevrolet, Stenhouse in the No. 17 Roush Fenway Racing Ford. "We talked a lot more about the cars," Patrick said. "We talked a lot more about the team. We talked more about purely what happened that day. He spent a lot of time trying to cheer me up after I was so disappointed after qualifying or after a race sometimes." That sort of empathy was crucial. "I get frustrated, and I know what I can do and want to do," Patrick said. "When it doesn't happen, I do get upset. He was good moral support."
Matt Crafton Wins Truck Title, Kyle Busch Takes Homestead Race Win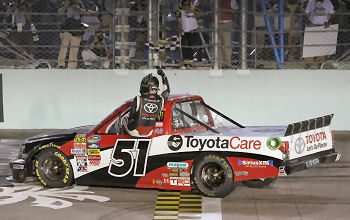 CIA Stock Photos

Kyle Busch Wins Fifth Truck Race This Season

It took Kyle Busch three attempts at a green-white-checkered flag finish to win Friday's NASCAR Camping World Truck Series Ford EcoBoost 200 at Homestead-Miami Speedway, but the overtime laps gave him an unexpected bonus: an owners' championship for Kyle Busch Motorsports. First things first. Matt Crafton qualified eighth, cranked his engine for the start of the race and won his first series championship in his 13th full year in the trucks, closing out Ty Dillon simply by starting the race. "It's an honor," an emotional Crafton said after the race. "To be able to do it for (team owners) Duke and Rhonda Thorson that have been doing this for 18 years and give them their first championship … and me driving for them for 13 years full-time … for (sponsor) Menard's and all the people that have been behind me, and every one of these guys that work on this truck, it's an honor to be able to give them this championship. These guys are the ones that work so hard. I'm just the one who gets to celebrate and look like a hero, because I get to drive a great truck all year."

Crafton was wrecked on the first attempt at a green-white-checker and limped home in 21st, resulting in his team losing the owners' title to Busch on a tiebreaker based on the number of victories during the season. The win was Busch's fifth of the season in 11 starts in his own No. 51 Toyota. It was his second win at the 1.5-mile track and the 35th of his career. Even with a win, though, Busch knew the chances of claiming the owners' title were slim, given that his No. 51 entered the race 23 points behind Crafton's No. 88 ThorSport Racing Toyota.

"There've been a lot of great things that we've been blessed with, first an owners' championship in our first year out with our race team (2010) and now again here in 2013 with a different crew chief (Rudy Fugle) and a lot of different drivers behind the wheel," Busch said. Having Denny Hamlin and Scott Bloomquist, Chad Hackenbracht and Erik Jones … and, of course, without Erik Jones' win last weekend (at Phoenix), we wouldn't be in this position this weekend to come out here and have the opportunity with those bonus points to be close enough. Matt had to have trouble [for us to take the title], and unfortunately he did."

Ryan Blaney rallied from contact with the wall to finish second. Jeb Burton hit the wall twice and came home third. Fourth-place finisher Brendan Gaughan posted his fourth top five in as many races, and Ron Hornaday Jr. ran fifth in his first race in the No. 34 Turner Scott Motorsports entry. Busch was leading when Burton scraped the wall for the second time on Lap 130 during a late green-flag run. That sent the race to overtime, and Busch led the field to the green flag on Lap 136, but a four-car wreck that collected Crafton in the melee necessitated the second green-white-checker. Johnny Sauter's wreck on Lap 142 caused the eighth caution of the evening to set up the third and final try at a two-lap shootout.

Blaney, 19, also made a statement in a close rookie-of-the-year battle against Darrell Wallace Jr., becoming the youngest Sunoco Rookie of the Year in series history. Blaney led 51 of the first 65 laps and was first onto pit road on Lap 65 after Darrell Wallace Jr. tagged the outside wall one circuit earlier. Busch was first off pit road for a restart on Lap 70, but after a pitched battle for the lead that went four-wide at one juncture -- with Busch, Blaney, Crafton and Hornaday all involved -- Blaney reclaimed the top spot from Busch on Lap 78 and began to pull away. Blaney's lead grew to nearly one second by Lap 88, but Busch soon began to close. On Lap 94 Blaney scraped the outside wall to cause the fourth caution of the race and dropped to the back of the field after repairs but rallied late for the runner-up finish as the race went 14 laps beyond its posted distance.
Matt Kenseth Wins Last Cup Pole Of The Year At Homestead
With a pole-winning run Friday at Homestead-Miami Speedway, Matt Kenseth sent a clear message to Chase for the NASCAR Sprint Cup leader Jimmie Johnson. Kenseth isn't about to go down in the championship battle without a fight. Touring the 1.5-mile speedway in 30.394 seconds (177.667 mph), Kenseth drove the No. 20 Joe Gibbs Racing Toyota to his third Coors Light pole award of the year (tying a single-season career best), his first at Homestead and the 11th of his career.

Trailing Johnson by 28 points entering the Ford EcoBoost 400, the season finale in the NASCAR Sprint Cup Series, Kenseth will start six positions ahead of Johnson, who qualified seventh at 176.598 mph. Nevertheless, Kenseth doesn't expect to have a shot at the championship unless Johnson has trouble. Johnson will lock up his sixth title if he finishes 23rd or better, 24th with a lap led or 25th with most laps led. "All we can do is control the (number) 20," Kenseth said. "My team did a wonderful job of that today. The car was way better than I was all day, so I could give it a decent lap and get some of the speed out of the car. I think that's a start of it. Even though this is a really great track -- it's really, really wide with a lot of grooves, you can really pass -- it's [still] hard to pass these days, and track position's really important. We can't really control what they do. They don't usually run 23rd or 24th without any problem. So, really, I just think we concentrate 100 percent on the 20, try to do everything we can to go out there and run up front, hopefully have a shot to win the race, finish as high as we can, so if they do have any kind of problem, we're there to capitalize on that."

For his part, Johnson likes his chances but knows he must finish the race. "It's a great position to be in," Johnson said. "There's no doubt about it. I think back to the old points system (pre-2011), what that number would equal. That's a big number, so it's nice, but it doesn't guarantee anything. I have to run all 400 miles on Sunday and that's really the goal for this Lowe's car." Kevin Harvick -- third in the standings, 34 points behind Johnson and the only other driver with a mathematical chance at the title -- qualified sixth at 176.655 mph. In the competition for the pole, Kenseth edged Kurt Busch (177.445 mph), who will start from the front row for the ninth time this year (one pole and eight second-place qualifying efforts). Joey Logano (177.282 mph) claimed the third spot on the grid, followed by Brad Keselowski (177.061 mph) and Denny Hamlin (176.846 mph).
Kevin Harvick Wins At Phoenix, Keeps Faint Title Hopes Alive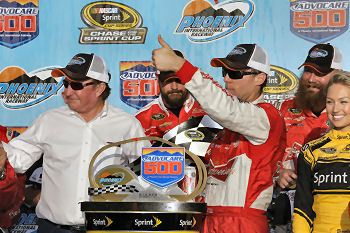 CIA Stock Photos

Kevin Harvick and Richard Childress Celebrate Victory

Jimmie Johnson survived a close call and a succession of less-than-stellar restarts. Matt Kenseth couldn't overcome handling problems that kept his car mired in traffic. And Kevin Harvick, meanwhile, took advantage of Carl Edwards' fuel shortage to win his fourth race of the season in Sunday's AdvoCare 500 at Phoenix International Raceway, keeping alive his faint hopes of winning the NASCAR Sprint Cup Series championship in his final season with Richard Childress Racing. The net result? Johnson, who finished third, widened his lead over the struggling Kenseth, who ran 23rd, and took a giant step toward his sixth series championship.

Johnson expanded his advantage in the Chase for the NASCAR Sprint Cup standings from seven to 28 points over Kenseth entering next Sunday's season finale at Homestead-Miami Speedway. Johnson can clinch the title with a finish of 23rd or better, 24th if he leads one lap and 25th if he leads the most laps. By winning and leading the most laps on Sunday, Harvick, third in the standings, narrowed his deficit to Johnson from 40 to 34 points and is still within range of the title, should Johnson have issues at Homestead. The victory was Harvick's fourth at the one-mile track and the 23rd of his career. It came as a sudden surprise, as Edwards slowed on the final lap. "Well I think we were all pushing it on gas there to try to just put enough in it to get to the end, so that we could gain all the track position we could under green," Harvick said of his final pit stop on Lap 267. "I saw him slowing with about maybe a lap and a half, two laps to go. (Team owner) Richard (Childress) came across the radio and said he was slowing down. I'm like 'Dang, we might still be in this thing.'"

Kasey Kahne ran second, followed by Johnson, Dale Earnhardt Jr. and Kurt Busch. Edwards, who ran out of gas while leading on the final lap, finished 21st. Edwards slid up into Johnson's car on Lap 163, dropping Johnson back to 24th after Harvick took them three-wide entering Turn 1. Johnson made a spectacular save and spent the rest of the race working his way toward the front. Johnson started from the pole but, thanks in part to Joey Logano's dive to the inside, failed to launch at the green flag, a tendency that would plague him all afternoon.

Trouble on restarts may have kept the five-time champion from winning the race, but they didn't prevent him from recovering nicely when the incident with Edwards left him back in the pack. "At two different points, as I saved it, the car pointed back at the fence, and I thought I was going to hit it," Johnson said. "Thankful that that didn't happen, clearly. [It] certainly worried me, and then we were mired in traffic after that, and I didn't know what that was going to mean for us." --/-- Kenseth, on the other hand, could make little progress with a balky car whose handling deteriorated throughout the race, despite the best efforts of his crew to correct the problem. "Obviously, it didn't drive good or we would have been up there with the front group," Kenseth said. "I just did all I could with it, which wasn't much."

Though Johnson enjoys a hefty advantage approaching the season finale, he was far from ready to lay claim to the title. "Yeah, everybody is so eager to predict the champion, but you've got to play the game," said Johnson, who has finished 32nd and 36th in his last two races at Homestead. "You've got to run the race, and stuff happens. There's so many variables in one of our races -- I think more variables than any pro sport out there. We have all 43 teams playing, driving, racing, all the mechanical components on the race car, pit stops, other issues on other cars that can take you out … tires. There's a lot of variables, so we don't take any of these weekends lightly. Even with a nice points lead I'm not going to take any week any differently. There's still a lot of pressure to get the job done, and it's no lay-up at all."

Johnson, Kenseth and Harvick are the only three drivers with a chance to win the championship. Kyle Busch (fourth in the standings) and Earnhardt (fifth) were among those eliminated at Phoenix.
Kyle Busch Crushes The Competition In Dominating NNS Win At Phoenix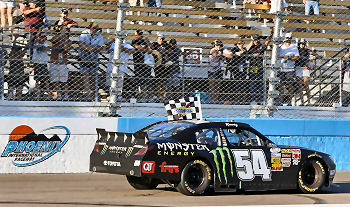 CIA Stock Photos

Victory At Phoenix Again For Kyle Busch

Don't bet against Kyle Busch when he races at Phoenix. Don't bet against him when he wins the pole for a NASCAR Nationwide Series race. Kyle Busch did both on Saturday, and with working for him, Busch blew away the opposition to win his sixth race at the one-mile flat track in the Sonoran desert. The driver of the No. 54 Joe Gibbs Racing Toyota finished the ServiceMaster 200 more than four seconds ahead of race runner-up Justin Allgaier, who passed series leader Austin Dillon for the second position on the final lap. Dillon held third, followed by Regan Smith and Sam Hornish Jr., whose deficit to Dillon in the championship battle grew from six to eight points.

Busch led 169 laps en route to his 12th NASCAR Nationwide Series victory in 25 starts this season. Busch extended his series record for wins in the series to 63. The pole was Busch's 10th of the season -- on nine occasions this season, he has converted the top starting spot into a victory. "It was certainly a great day for us," Busch said. "It's a testament to (crew chief) Adam Stevens and the group of guys that he's got around us that do such a great job for us and work real hard and give us some great equipment."

With a bold move from the outside lane, Brad Keselowski powered past Busch into the lead after a restart on Lap 112, but the tenure of the No. 22 Ford at the front of the field was short-lived. Busch, who slipped to third on the restart lap, regained the second spot on Lap 117, overtaking Harvick for the position. Three laps later, Busch and Keselowski were side-by-side at the start/finish line, with Busch nosing ahead as the cars crossed the stripe. Busch began to inch away over the next 10 laps before Brad Sweet's spin in Turn 3 brought out the third caution of the race on Lap 130. Diverging strategies scrambled the running order as five drivers -- Bayne, Hornish, Allgaier, Smith and Scott -- opted not to pit under the yellow, leaving Busch to take the green from the sixth spot on fresh right-side tires.

Four more cautions followed in short order -- in a race that had run under green for 100 laps between the first two yellows -- and allowed Busch to pick off the cars running on old tires. Shortly after a restart on Lap 154, he passed Allgaier for the lead. "When we got back in traffic there, the restarts just worked out perfectly for me," Busch said. "We went green, I picked off a spot, we went yellow. We went green, I picked off one or two more spots, we went yellow. So every time I just kept picking off a car, and the caution would come out, so it would just re-bunch the field and give me another opportunity, instead of having it spread and take more to get back to the front. So it worked out real well for us in that situation."

Twelve laps before Busch made the winning pass, a tap from Scott's Chevrolet had knocked Keselowski's Ford into the Turn 3 wall in an accident that had serious implications for the owners' championship. Entering the race, the No. 22 led the No. 54 Toyota driven by Busch by 26 points, but Keselowski's wreck, coupled with Busch's win, trimmed the margin to four points with one race left.
Erik Jones Holds Off Ross Chastain, Becomes NCWTS Youngest Winner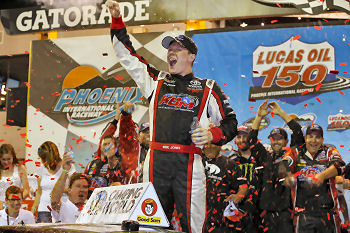 CIA Stock Photos

Erik Jones Celebrates Victory At Phoenix

In a battle between two drivers who had never won a NASCAR Camping World Truck Series race, 17-year-old Erik Jones pulled away from Ross Chastain in the final 10 laps of Friday night's Lucas Oil 150, becoming the youngest winner in series history. Driving the No. 51 Kyle Busch Motorsports Toyota, Jones took the lead on Lap 142 of 150, powering to the inside of Chastain through the dogleg on the backstretch. Born May 30, 1996, Jones eclipsed Chase Elliott, a winner earlier this year at Canadian Tire Motorsport Park, as the youngest winner in the truck series.

With a fifth-place run, Matt Crafton moved closer to the series championship, ending the evening 46 points ahead of Ty Dillon, who finished fourth. To secure the title, Crafton has to only start Friday's race at Homestead-Miami Speedway. James Buescher, who entered the race second in points, came home ninth and was eliminated from championship contention. Veteran Brendan Gaughan ran third behind Jones and Chastain.

Jones and Chastain swapped the lead through a series of late-race cautions before Jones made the winning pass and pulled away. After the final restart on Lap 141, Chastain blocked a strong run by Jones at the top the track, a move that made Jones all the more determined to win the race. "On the last restart, we stayed with him through (Turns) 1 and 2 on the top side," Jones said. "He squeezed us up -- but that's racing with 10 to go. You can't blame him for that. But when something like that happens, it makes you more determined than you were before. I was really determined after that to go back and get it. I really felt like we had a better truck from the previous restart, and I really felt like it was our race all day and didn't want to let it slip away."

Jones lost the lead to Chastain during pit stops under caution on Lap 89, the yellow flag necessitated by Ron Hornaday's hard crash into the Turn 4 wall. After his release from the infield care center following the wreck that ended his race, Hornaday revealed that he had been released from his ride in the No. 9 NTS Motorsports truck and will drive for Turner Scott Motorsports in the season finale. As soon as the green flag waved, however, Jones powered to the outside of Chastain after a restart on Lap 94 and cleared the No. 19 by the time the trucks exited Turn 2.

Jones opened a lead of 3.2 seconds before debris from Joey Coulter's truck caused the fourth caution of the night on Lap 112. Chastain grabbed the lead from the inside lane after the Lap 120 restart moments before John Wes Townley's spin into the outside wall caused the sixth caution. Chastain held the top spot on Lap 134, when Timothy Peters' truck got loose beneath that of fellow Toyota driver Darrell Wallace Jr. and sent both trucks spinning.
Johnson Wins Texas, Kenseth Stays Close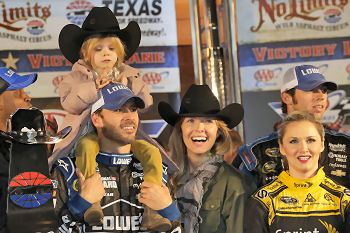 CIA Stock Photos

Johnson Celebrates Victory At Texas With Family

The speed in Jimmie Johnson's No. 48 Chevrolet was positively jaw-dropping. Able to pull away from his pursuers with apparent ease, Johnson finished three positions ahead of Matt Kenseth in Sunday's AAA Texas 500, breaking a tie for the lead in the Chase for the NASCAR Sprint Cup, but -- make no mistake -- Johnson's performance amounted to a brutal bludgeoning of Kenseth and the rest of the opposition. Kenseth hurt his own cause with a pit-road speeding penalty, but not even a perfect day on pit road likely would have overcome the dominance of the five-time champion, who led 255 of 334 laps en route to his third victory at Texas Motor Speedway, his sixth of the season and the 66th of his career.

With two races left in the Chase, Johnson heads to next Sunday's event at Phoenix with a seven-point lead over Kenseth, who rallied from the speeding penalty he incurred on Lap 173 to finish fourth. Similarly, Johnson left Texas last year with a seven-point lead over Brad Keselowski -- and lost the title. But the emphatic nature of Johnson's win on Sunday sent an unmistakable message. "We came here and tested and did an awesome job of understanding what I needed in the car and what was going to create speed," Johnson said after the race. "We came back and had a very smooth qualifying session and practice sessions (Saturday), and just kept putting more and more speed in the car. It paid off today. Obviously, we need a lot of speed in the car and a win to get any points because Matt is there in the top five. Nice to gain just a few points on him. But just a dominant day for this Lowe's team."

Despite the emphatic whipping he administered to the rest of the field, Johnson is anything but overconfident. "I've been watching a lot of MMA fighting lately, and you'll fall into a rhythm and think that somebody has got the fight won, and it doesn't end that way," he said. "That's how this is going to be. Matt didn't have maybe the best day and still finished fourth. This thing is going to go to the last lap at Homestead, and it is going to come down to mistakes. I'm very excited about our performance and what we did here. We'll enjoy this, but there is still two weeks of very hard racing ahead of us."

Dale Earnhardt Jr. ran second, 4.390 seconds behind his Hendrick Motorsports teammate. Joey Logano came home third. Neither Earnhardt nor Logano, however, had a prayer of beating Johnson, and they knew it. "The 48 was in another class, and nobody had anything for him," Earnhardt said. "He was just super good all through practice and the race. Overall, we can't be disappointed with a third-place finish," Logano added. "Just the 48 car was ridiculously fast." --/-- Johnson is the first back-to-back winner of the fall race at Texas since the race became part of the Chase in 2005. Johnson also tied Carl Edwards for most NASCAR Sprint Cup Series victories at the 1.5-mile track.

Kasey Kahne finished fifth, followed by Brad Keselowski, Denny Hamlin, Kevin Harvick, Ryan Newman and Clint Bowyer. Harvick climbed to third in the series standings, but at 40 points behind Johnson and 33 behind Kenseth, it will take a miracle to put him back into the championship picture. The race was a disaster for Jeff Gordon, who entered the event third in the standings but blew a tire, hit the wall on Lap 74, finished 38th and fell out of contention for a possible fifth title. Gordon fell to sixth in points, 69 behind Johnson.



---
Open Wheel News and Press Releases
Articles By The Staff Of Insider Racing News and Guest Columnist - 2013

By Our Insider Racing News Staff, Guest and Fan Articles.....
Some Past Articles Worth Reading

Insider Racing News: 13 years on the Internet - 43 years in Racing
All original material published on this site becomes and remains property of Insider Racing News
---
---
---
---