June 9, 2012
By Donalde z Smith
Several NASCAR staff moves and promotions were announced last week. Steve Herbst, was selected to lead what was formerly known as NASCAR Media Group Productions as Vice President, Broadcasting and Production. Steve Stum has been promoted to Vice President of Operations and Technical Production and Tally Hair has been named Managing Director of Production and Programming. Also Seth Bacon has been elevated to Senior Director of Broadcasting.
"Over the last two years NASCAR has taken a number of steps and made significant investments to drive long-term growth and build value for industry stakeholders," said NASCAR Chairman and Chief Executive Officer Brian France. "This is the next evolution to better position NASCAR to meet the challenges of the existing business landscape and to capitalize on the growth opportunities before us."
As NASCAR* announced the strategic moves designed to further strengthen its broadcasting and production units; it presented the seamless opportunity to reflect on the sport's recent past.
It has been just five years since the passing of William Clifton France (April 4, 1933 – June 4, 2007). Better known in the NASCAR community as Bill Jr. or "Little Bill" this NASCAR Icon was the executive who served from 1972 to 2000 as the head of the National Association for Stock Car Auto Racing (NASCAR).
France Jr. was born in Washington DC and moved to Daytona Beach in 1935 to escape the Great Depression. He worked for his dad in the racing business all through high school. Then Bill Jr. served in the United States Navy for two years before making racing his lifelong career.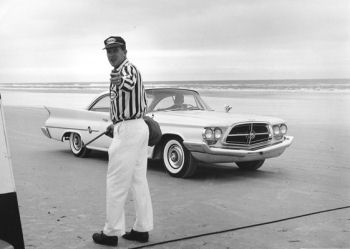 Photo Courtesy NASCAR

Bill France Jr. served as an official
when Daytona racing was held on the beach
When France Jr. assumed NASCAR's presidency from his father, he fit into the role rather quickly. After all, Bill Jr. had been on NASCAR's frontlines for a while. He had run races from the tower, handled negotiations with promoters, worked with emergency vehicle operators, and was doing all the little things that are so important for a smooth operation.
In a sport where drivers normally take center stage and command all the fan and media admiration, this writer became aware of Bill France Jr. after February 18, 2001, the date of Dale Earnhardt Sr.'s fatal crash. After the tragedy, France Jr. had to deal with the death of his close friend while keeping the business of racing on an even keel . He did so with grace and managed to artfully defuse the outcries and concerns of the public through a safety commission.
However, Bill Jr. did not stop there. He attacked the issues of safety by launching an unprecedented commitment to engineering at the NASCAR Research and Development Center. That ultimately led to the Car of Tomorrow, which now provides solid racing and continues to save lives and careers. As a mom to a NASCAR Racer, each of Bill Jr.'s safety advancement, which included the mandatory use of the HANS Device,** left me deliriously joyful.
France Jr. turned the presidency of NASCAR over to Mike Helton in 2000 after being diagnosed with cancer. He made his son, Brian France, the CEO and Chairman of NASCAR in 2003, while he remained a member of the six person NASCAR board of directors.
Bill Jr. suffered from lung cancer which had been diagnosed in 1999. His death, at the age of seventy-four, occurred during the Autism Speaks 400 Sprint Cup race in 2007. His passing was reported during the live broadcast of the race. Relevantly, the FOX Sports broadcasters held a moment of "silence" during a restart during the race, and the track's flag was lowered to half-staff.
Although "Little Bill" is gone, he and his family's legacy are most certainly not forgotten. Younger brother James "Jim" C. France is the GRAND-AM co-founder. Wife Betty Jane France is directing the "Betty Jane France Humanitarian Award" which looks for champions in the NASCAR community who represent the generosity of the sport. Son Brian France remains the CEO and Chairman of NASCAR.
Daughter Lesa France Kennedy is the Chief Executive Officer of International Speedway Corporation and a member of the board of directors of NASCAR. Ms. Kennedy is also a race mom. Her son Ben Kennedy made his NASCAR K&N Pro Series East debut at Gresham Motorsports Park in 2010. Ben is carrying on in the family business and is currently seventh in the K&N Pro Series East point standings.
To be as successful as Bill France Jr. was, you have to possess a passion for your vocation. "He was a wonderful person, he loved people and he shared his life." Betty Jane France recalled during a memorial for her husband in 2007.
Thank you, Bill France Jr., for sharing your love for the sport of NASCAR with all of us.
* The National Association for Stock Car Auto Racing, Inc. (NASCAR) is the sanctioning body for one of North America's premier sports. NASCAR races are broadcast in more than 150 countries and in 20 languages. Also part of NASCAR is Grand-Am Road Racing, known for its competition on road courses with multiple classes of cars. For more information and a complete schedule, visit www.nascar.com. Follow NASCAR on www.facebook.com/NASCAR and/or on Twitter: @NASCAR.
** The HANS device (Head and Neck Support) is a safety item that reduces the likelihood of head and/or neck injuries, such as a basilar skull fracture, in the event of a crash.
If you would like to learn more about Donalde z Smith, please check out her web site at NASCAR Race Mom.
You can contact Donalde z Smith at .. Insider Racing News

The thoughts and ideas expressed by this writer or any other writer on Insider Racing News, are not necessarily the views of the staff and/or management of IRN.