April 13, 2012
By Donalde z Smith
As a NASCAR writer, there is never a lack of material to write about.
However, NASCAR Race Mom is always on the hunt for the stories that will inform the fans just how much good NASCAR does for the community.
As an example, the NASCAR Foundation NASCAR Unites is dedicated to raising funds and increasing volunteerism to support charities and charitable causes throughout the nation with an emphasis placed on initiatives that affect the ability of children to live, learn, and play.
Since 2006, the NASCAR Foundation has been a leader in the motorsports community -- encouraging, facilitating, and guiding philanthropic efforts. In addition to annual contributions, each year fans donated $5 in exchange for a NASCAR Day pin, allowing The NASCAR Foundation to: Award nearly $13 Million in charitable support to hundreds of charities; provide 24,000 children each year with medical treatment at Speediatrics; give 1,100 children the Victory Junction camping experience; and fulfill 600 NASCAR Dreams. NASCAR Race Mom buys several NASCAR Pins each year. Good deeds breeds good karma.
Therefore, NRM was thrilled to learn that Camping World Truck Series Rookie contender, Paul Harraka and his team announced that they will carry the colors of Rockingham's "Send A Soldier To The Rock" initiative on their Richie Wauters' No. 5 Ford.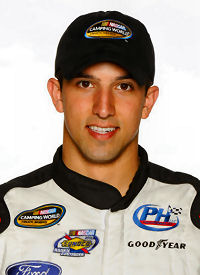 Photo John Harrelson/Getty Images
The Rockingham Speedway, often referred to as "The Rock," is located near Rockingham, North Carolina. Its' special program allows fans to purchase tickets for servicemen and women. Partnered with Fort Bragg, the "Send a Soldier to The Rock" event distributes those tickets to men and women in uniform for the upcoming Good Sam Roadside Assistance 200 presented by Cheerwine NASCAR Camping World Truck Series (NCWTS) race on April 15. The event will be the first NASCAR-sanctioned race at Rockingham since 2004.
According to Rockingham Speedway Director of Public Relations Andy Cagle, the "Send a Soldier to The Rock" program, generated more than 300 tickets sold the first day.
"Fans have begun adding an additional ticket to their order for the soldiers," said Rockingham Speedway President Andy Hillenburg. "Some have even purchased blocks of three to four seats. This program started at the grassroots level, and we couldn't be happier to give it our seal of approval. Nothing is too good for our military men and women, and we look forward to hosting them April 13-15."
NASCAR Race Mom became acquainted with Camping World Truck Series Rookie, Paul Harraka, when he and my son were teammates. Harraka and my son, Moses Smith, drove for Bill McAnally Racing in the NASCAR K&N Pro Series West a couple of years back.
The twenty-two-year-old Harraka, out of Wayne, N.J., started racing go-karts at the age of six in empty parking lots. The racer won his first state championship when he was seven. By age fifteen, he had 153 kart wins. He has also raced Legends and regional series.
In 2009, he began to compete full-time in the K&N Pro Series West. He won two events and took the "Rookie of the Year" award. He participated in NASCAR's Drive for Diversity. (Harraka is of Syrian descent.) In his spare time, Harraka attends Duke University, where he's enrolled in the Markets and Management Program.
Harraka's venture in the Camping World Truck Series could have been smoother. He qualified fourteenth in Daytona in February and finished eighteenth. Last month, he qualified eighteenth in Martinsville with a twenty-second place finish.
"Martinsville is an extremely tough track, and I now understand why Johnny Benson and Jimmie Johnson gave me all of the 'you'll see when you get there' Warnings," Paulie Harraka reported. "Practice was definitely challenging, and it took me a little while to get comfortable and figure out exactly what I needed the truck to do there.
"However, once the race started, I felt extremely comfortable and really enjoyed pushing the truck harder and harder there. We had an extremely fast MC-10 Ford F-150 at Martinsville, and I really wish we would have had the chance to show how racy it was. MC-10 is a great partner, and I'm excited to have them with us for the rest of the season."
The team detailed that battery issues hampered a better result for Harraka.
Paulie Harraka is currently fourteenth in the Point Standing. However, it is early in the season and with twenty races remaining, it will be interesting to watch the young 2012 Sunoco Rookie of the Year* candidate's progress.
Sunday's Good Sam Roadside Assistance Carolina 200 presented by Cheerwine takes the green flag at 1 p.m. A ticket to the race will get fans into the NCWTS drivers meeting and a special autograph session on pit road prior to the running of the race.
Fans can purchase Send a Soldier to The Rock tickets by calling the speedway office at 910-205-8800. For more information on the Good Sam Roadside Assistance 200 presented by Cheerwine, or to purchase tickets for any of the speedway's events, contact Rockingham Speedway at 910-205-8800 or visit online at www.rockinghamspeedway.com.
* Paulie Harraka is currently fifth in the 2012 Sunoco Rookie of the Year Point Standings -- You can follow Harraka on his facebook page and on twitter ...twitter.com/@paulieharraka.
If you would like to learn more about Donalde z Smith, please check out her web site at NASCAR Race Mom.
You can contact Donalde z Smith at .. Insider Racing News

The thoughts and ideas expressed by this writer or any other writer on Insider Racing News, are not necessarily the views of the staff and/or management of IRN.